Check our List of Ten Fun Things To Do in Santa Clarita, CA.
Looking for fun things to do in Santa Clarita Ca? Want to do something different with the kids? Check out this list of ten fun things to do!

Experience the many Xtreme rollercoasters at Six Flags Magic Mountain! This is THE theme park with the most coasters on planet earth. Known worldwide as a thrill ride haven, the 260-acre theme park features over 100 rides, games, and attractions for the entire family.
Enjoy exciting thrill rides like X – the world's first and only 4th-dimensional roller coaster, Deja Vu – the world's fastest and tallest suspended, looping boomerang coaster, Goliath – the coaster GIANT among GIANTS, The Riddler's Revenge – the world's tallest and fastest stand-up roller coaster, Superman The Escape – towering 415 feet in the air, Colossus, Batman The Ride, Viper and many more. For younger guests, there is Bugs Bunny World, featuring rides and attractions that provide real thrills for kids and adults alike. And … meet your favorite Looney Tunes characters – Bugs Bunny, Daffy Duck, Yosemite Sam, Sylvester – ALL this in one day! Website
For information please call (661) 255-4111 or (818) 367-5965. Six Flags Magic Mountain is open daily beginning March 29 through September 15; weekends and holidays for the balance of the year.
——————————————————————————————————————


2) CHECK OUT SIX FLAGS WATER PARK AKA HURRICANE HARBOR IN SANTA CLARITA–
A water park adjacent to Six Flags Magic Mtn that features dozens of water attractions for the entire family. Water slides include Black Snake Summit with two of the tallest fully enclosed speed slides in Southern California; Lizard Lagoon, a 7,000 square-foot pool spanning a wide variety of teen and adult activities, the Reptile Ridge high-speed slide complex; and Bamboo Racer, an exciting 45-foot-tall six-lane racing attraction. For additional information please call (661) 255-4111 or (818) 367-5965. Hurricane Harbor is open weekdays during the summer and then weekends after Sept 15th. Website
_____________________________________________________________
3. Visit Castaic Lake only Nine Miles North of Santa Clarita.
Castaic Lake puts a whole new meaning to swimming, fishing, and diving. The invigorating lake water can provide hours of fun for swimmers, boaters, and novice fishermen. Plus, did you know that some of the largest fish in the world have been caught here? It's true!
Castaic Lake has two bodies of water. Lower lake is for non-power boating and canoeing. Swimming season on lower lake runs from mid-May to mid-September. Upper lake is for sailing, power boating, water and jet skiing, and fishing. The lake is stocked with bass, trout, and catfish. Boat rentals and a tackle bait shop are available.
Other recreational activities include hiking, biking trails, picnic areas, and playgrounds. Rental group picnic areas are available for up to 600 persons.
So why not bring your own food and have a picnic? Why drive an hour to the Pacific Ocean when you can enjoy a great lake experience ten minutes up the 5 Freeway in Santa Clarita? SCV-Map
______________________________________________________________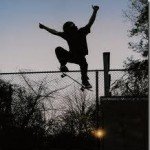 4.  MB2 Family Entertainment Center | Santa Clarita Skatepark | Scooter's Jungle
MB2 Family Entertainment Center
21516 Golden Triangle Road, Saugus
661-253-4386
An action-packed complex with great food and fun for the entire family, including arcades, batting cages, bumper boats, rollerblading, and Grand Prix-style go-kart racing. Challenge yourself on the 36-hole miniature golf course, surrounded by picturesque waterfalls. For more family fun,the Ice Cream Parlour Restaurant will challenge you to eat an ice cream sundae without smiling!
======================
This skate park includes over 40,000 square feet of skating area.
Santa Clarita Skatepark features include a Snake Run, Skateable Planters, Street
Plaza, Bowl area, Hand Rails and Stairs, Bridge, and Half-Pipe Tunnel!
Hours:
Monday – Friday:
12:00 Noon – 9:00 pm
Saturday & Sunday: 8:00 am – 9:00 pm
Location:
All people of the Santa Clarita area including
Valencia, Santa Clarita, Saugus, Newhall, and other residents of the Santa
Clarita Valley, are welcome.
Santa Clarita SkatePark
20880 Centre Pointe Parkway – Map
Santa Clarita, CA 91387
Scooter's Jungle in Santa Clarita
perfect for small children. The indoor location includes slides, jumpy trampolines, great birthday place for the entire family.
(661) 877-4400 
28230 Constellation Rd. Valencia, Ca. 91355
———————————————————————————————————-
Get ready for fast-paced paintball teen and older warfare that takes place here. Paintball war will test your skill as well as your agility! Private parties can be arranged for birthdays and camps and target practices are available for those who want to practice or learn tactics. Don't forget to wear your old dark camouflage shirt/pants!
_________________________________________________________________________
6.  Visit Agua Dulce Vineyards 10 miles Northeast of Santa Clarita
Agua Dulce Vineyards
9640 Sierra Highway 
Agua Dulce, CA 91390
661-268-7450
After an absence of nearly 100 years, the lost art of fine wine-making has finally returned to Los Angeles County. Agua Dulce Vineyards in the Santa Clarita Valley is now the largest grower of premium wine grapes in LA County. With 90 acres of ideal soil and an excellent grape-growing climate, it's the place to go for wine-tasting!
The Agua Dulce Vineyards is a boutique wine producer with limited production capabilities, which means that you will not find their excellent wines in general stores. Stop by and sample the wines in their new taste room.
———————————————————————————————————-
7. WILLIAM S. HART PARK AND MUSEUM SANTA CLARITA, CA. 91321
Explore the estate of legendary silent film star William S. Hart and then head over to the nearby historical structures such as the Saugus Train Station.  Small children will LOVE the farm animals who love to be fed by children. Move on to the site of the Oak of the Golden Dream, where gold was first discovered in Santa Clarita, California. SCV-Map
————————————————————————————————————-
8.  Visit Santa Clarita's own Historic Mentryville
Just a few minutes away from Santa Clarita California is Mentryville. These historical 19th Century western structures give visitors an authentic look into the past of California's "black gold" boom town era. The "Big House" in Mentryville features a 13-room Victorian mansion and was the third Santa Clarita Valley Home of Charles Alexander Mentry. It was erected in 1898, two years prior to Mentry's death._________________________________________________________________
9. Take a Hike in the Mountains of Santa Clarita!
In and around Santa Clarita you'll find some of California's most awesome natural parks, great for day picnics, hiking, mountain biking, or exploring. You can start by just biking the eight miles of Valencia paseos which wind throughout Santa Clarita. But if you've already done that, then here are three places in Santa Clarita to check out:
Vasquez Rocks – Just North of Santa Clarita
Vasquez Rocks Natural Area Park north of Santa Clarita off the Antelope Valley Freeway (SR-14) is a 750-acre reserve that once served as a hideout for outlaw Tiburcio Vasquez, and was a shelter for the Tatavian Indians. The unique rock formations are a familiar sight and have been the background for many films and commercials. Rock climbing is the primary sport, but for a less perilous workout, saddle up for a riveting ride or go it on foot along the many hiking trails in this rocky terrain. In addition, you'll enjoy family campgrounds, hiking, and horseback trails.
Call (661) 268-0840 for more information.
Ed Davis Park in Santa Clarita, CA.
Ed Davis Park, located in Santa Clarita's Towsley Canyon can be found off the I-5 freeway at Calgrove. Here you'll find an outdoor setting with hiking and mountain bike trails, streams, and natural woodlands. Be sure to bring a bottle of water! Call (661) 255-2974 for information.
For additional Santa Clarita Tourism information, call 1-800-868-7398
Placerita Canyon Nature Center in Santa Clarita
Placerita Canyon Nature Center and Park, located off the Antelope Valley Freeway (SR-14) at Placerita Canyon Road is a picturesque setting in Santa Clarita that is complete with picnic areas, trails for hiking, and a nature center.  View the large rattlesnake in the glass-enclosed cage. Take the family for a two-mile hike to a secret, scenic waterfall! Call (661) 259-7721 for more information. SCV-Map
—————————————————————————————————————–
10.  And last but not least… WATCH a MOVIE, Go to the Library in Santa Clarita or GO SHOPPING at the MALL!
Visit the beautiful Laemmle Theater in Santa Clarita, which offers six luxurious theaters. Walking distance to an Irish Pub named Mannigan's plus other restaurants on Newhall's Main Street.
The Newhall Library is located across the street and you'll find a modern two-story structure filled with books and quiet nooks for reading and writing. 
For shopping, visit the Valencia Town Center and stroll down Town Center Drive for more great shopping. This main street is distinguished by its Entertainment Plaza which is anchored by Borders Books and The Grand Palace Movie Theaters. You'll also find highly desirable restaurants including BJ's Restaurant and Brewhouse, and Salt Creek Grille.

Throughout the Santa Clarita Valley, you'll find a wide selection of dining choices, sprinkled with cozy coffeehouses and award-winning menus. Pleasant surroundings and personal attention are the spirits behind Santa Clarita's many restaurant locations.
Also, open on Sunday morning, the historical stadium grounds of Saugus Speedway are the site of the largest Open Air Market in Santa Clarita. Bring the family-you will find something for everyone!
Visit an Open House Listed for Sale
Just kidding! But if you are thinking of making a move to Santa Clarita, call Bob or Roxana Boog at
(661) 755-1506.
Looking for a Santa Clarita Home for sale?
http://www.gop.gov/blog/10/11/16/nyt-meet-33-new-small
http://blog.broadband.gov/?categoryId=428171
http://blog.tsa.gov/2008/01/liquids-part-2.html
http://business.ftc.gov/blog/archive/2012/04
http://blog.dhs.gov/2009_12_01_archive.html
http://blog.senatedemocrats.wa.gov/frockt/a-mid-session-update-from-olympia/
http://forbes.house.gov/Blog/?CatagoryID=2321
http://blog.citizen.apps.gov/eeoc_cfc/2011/11/25/donation-meters/
http://www.nps.gov/eise/parknews/ike-blog.htm
http://www.gpo.gov/fdsys/search/pagedetails.action?st=blog&granuleId=CRI-2008-ROBERT-REICH-S-BLOG-35CF38&packageId=CRI-2008&bread=true
http://weblog.sba.gov/blog-advo/?m=201204
http://www.speaker.gov/blog/?postid=272074
http://blog.epa.gov/blog/2010/08/my-property-info/
http://blog.trade.gov/category/statistics-2/
http://www.usda.gov/blog/conversation/